Welcome to our first Cruiser Chronicles newsletter of 2023! We're excited to have you with us as we help you prepare for the upcoming camping season! In this newsletter, we're covering researching and buying your next RV and providing a variety of resources to help you navigate through the research process and make sure you're informed as possible when choosing your next RV.
WINTER IS THE TIME TO RESEARCH AND SHOP FOR YOUR NEXT RV
This time of year, a lot of Cruiser RV owners have their rig tucked away out of the winter elements or have made reservations for an extended stay somewhere warm. Regardless of where you find yourself, now is the perfect time to re-evaluate your RV needs. Does it provide all the functionality you need it to? Does it have enough space for everyone to use it comfortably? Or are you looking for an RV with more versatile space – such as a toy hauler or one with a separate bunkroom? Or maybe one with a large outdoor kitchen for easy entertaining! If it's time for an upgrade, to downsize or you just want something different to match the RV season you're in, we've provided a few resources to help find the best fit for you!

RV FINDER
ULTRA-LITE VS. SMALL TRAVEL TRAILERS
BUNKHOUSE AND TRAVEL TRAILERS

Researching different models and floor plan options allows you see which option will make the most sense for your camping style and will allow you to enjoy the RV lifestyle to its maximum potential!
JOIN US AT THE FLORIDA RV SUPER SHOW
Everyone knows that during the RV research and shopping process, the best way to choose the right RV for you is to see them in person! Cruiser RV will be at the Florida RV Super Show January 18-22, 2023, at the Florida State Fairgrounds. This is your opportunity to see our newest models, floor plans and features on your wish list on display with an authorized Cruiser dealer. Looking for a specific model or floor plan? Visit the link to see a full list of Cruiser brands and floor plans that will be on display at the show!

CRUISER AT THE FLORIDA RV SUPER SHOW
PRODUCT INNOVATIONS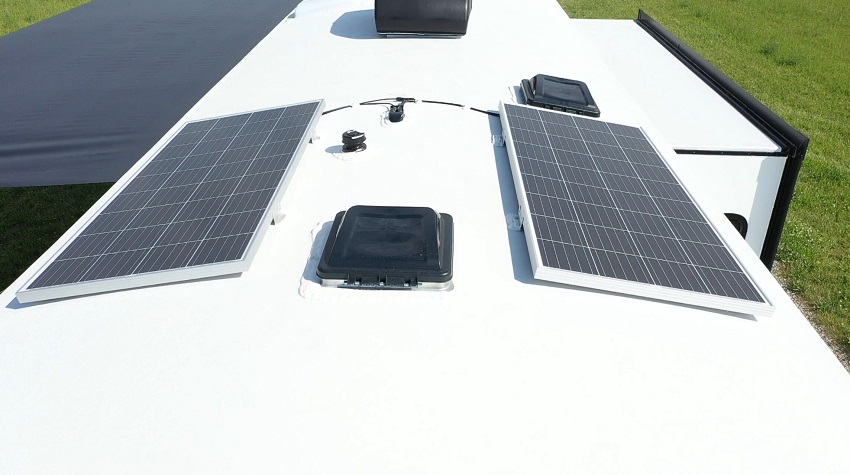 Cruiser RV has recently introduced SOL – Powered by the Sun, making it easier than ever for Cruiser owners to harness solar power on their camping trips. With three options to choose from, you can have a solar package that supplements your typical energy use or choose a higher tier that powers your RV when you camp off-grid! It's important to note that solar packages are only available on new, 2023 models and beyond. Cruiser RV brands older than 2023 are not able to be retrofitted for solar packages.
New to the Hitch product line, the 18MRB provides all the functionality you need in under 22 feet. The interior features bright and airy décor with European-styled cabinetry with a two-toned color scheme. To maximize space, this floor plan offers a queen-sized murphy bed that can be folded up and put away when not in use to provide additional seating. The exterior features an outdoor kitchen under a 14' awning as well as access points to the full pass-thru storage on both sides.

VIEW VIRTUAL TOUR
Track warranty claims, parts orders and more through by downloading the Cruiser app today! View checklists for upcoming trips, locate a dealer, receive preventative maintenance, watch how-to videos on properly dewinterizing your RV and more. You can also enable push notifications to stay up to date on newly added content and resources! MyCruiserRV app is available on the Apple store or Google Play store and allows you to access specific information regarding your RV all in one place! This one app provides a library of tools and resources to help maximize the life of your RV and make your RVing experience as seamless as possible. OWNER'S INFO AND FAQ We are committed to providing you with quality customer service. We have a dedicated section on our website where you can easily download our general owner's manual, view a list of our vendors for information on service or parts and see if we already have an answer to your question on our FAQ page.OWNER'S INFO AND FAQ