(Oct. 2022) – One of the advantages of the RV lifestyle, is the flexibility it provides to work or play, or both, from wherever you'd like. Whether you only camp on the weekends, travel full-time, work remotely or any scenario in between, we have resources to help make the most of your RV lifestyle!
Track Warranty Claims, Parts Orders and More through the Cruiser RV App. Download Today! View checklists for upcoming trips, locate a dealer, received preventative maintenance, watch How-To videos on properly winterizing your RV and more. You can also enable push notifications to stay up to date on newly added content and resources! MyCruiserRV App is available on the Apple app store or Google Play store, this mobile app is an informational hub for you and your Cruiser RV. Owners can enter their VIN# and monitor warranty information, parts orders, as well as maintenance tips to better enhance their RV lifestyle.
What if we told you that for the cost of one night at an RV campsite, you could have access to an abundance of RV services, tools, perks, discounts, and social networking? With Roadpass Pro, all this and more is available for just $49.99 a year. You'll get paid membership across Roadtrippers, Campendium, Togo RV and RVillage, giving you tools to help you plan trips, maintain, and operate your RV, research, and rate campsites, and connect with other RVers wherever you go. But before you decide, you can read more about these amazing features and a ton more perks on our blog.
In partnership with Suburban, an Airxcel brand, Cruiser RV has unveiled an exclusive line of the industry's first air fryer range in all Cruiser RV models. The new air fryer range uses convection heat to create crisp exteriors on food in the oven, with little to no oil necessary. It also helps save space in an RV, rolling the air fryer technology into a standard appliance so campers don't have to fuss with packing an additional piece of equipment. The air fryer ranges also include high-end features like gas cooktops that offer precise temperature control, cast iron grate details, backlit control panel knobs for easy visibility, and a removable mesh frying tray and drip pan to make cleanup quick and easy. They're the latest addition to Cruiser RV's lineup of select features that enhance the RV experience while keeping trailer dry weights low for easier towing.
The Radiance 27RK is a new, rear-kitchen floor plan that is perfect for a short weekend trip or extended vacation! Whip up a quick meal using the inset, outdoor kitchen under the 19' awning, or step inside to relax on the comfortable sofa or king-sized bed which features our patented slide system.
No matter the length of stay, you'll have plenty of storage space with versatile pantry space in the kitchen, three wardrobe closets in the bedroom and plenty of drawers and doors in between.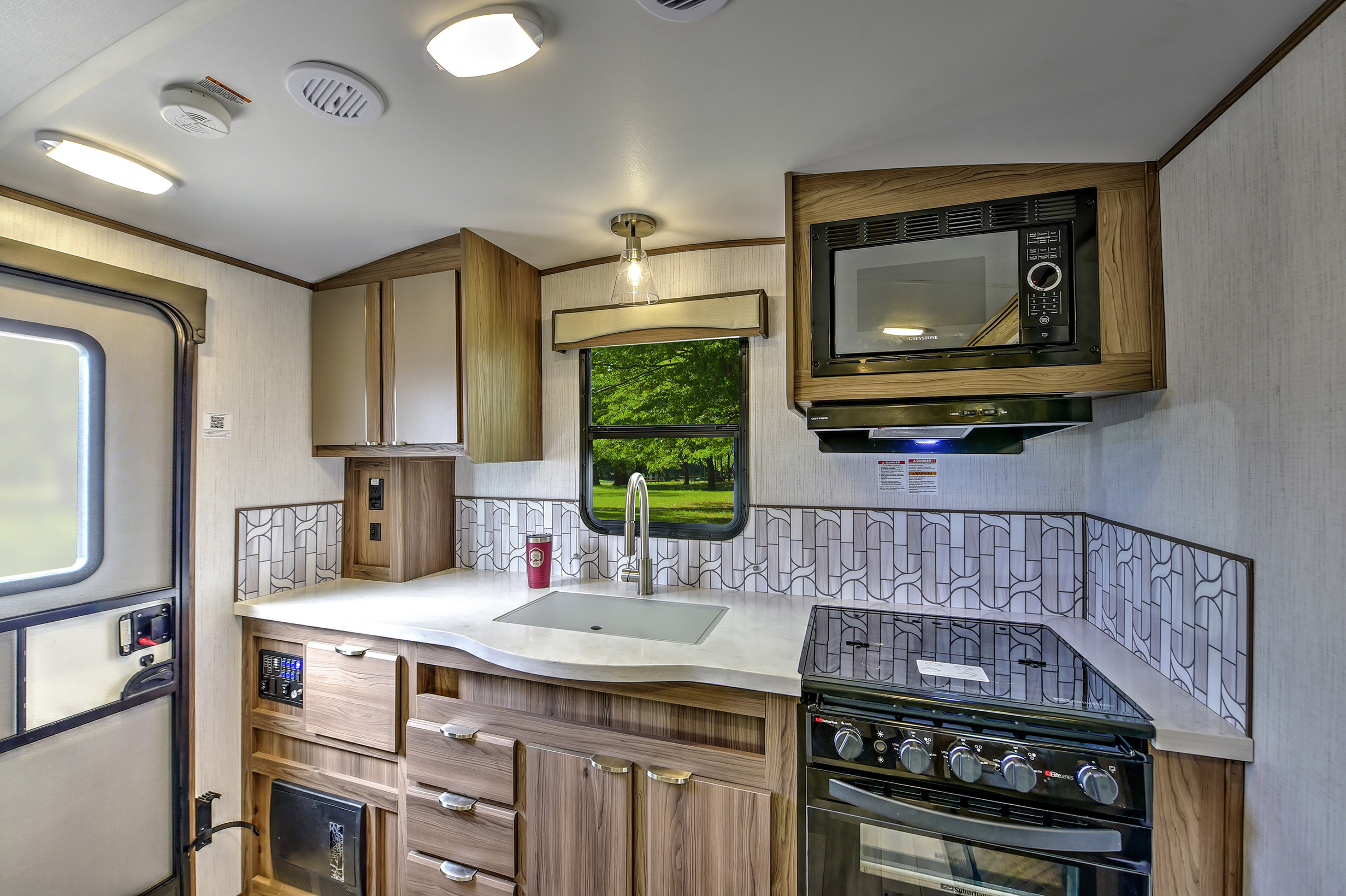 Want to see Cruiser RV in Person?
We will be at the 2023 Florida RV SupershowJanuary 18-23, 2023
2023 Florida RV Supershow

January 18-23, 2023 Hours: Wednesday, January 18 – Saturday, January 21; 9:00a.m. – 6:00p.m. Sunday, January 22; 9:00a.m. – 5:00p.m.
Location: Florida State Fairgrounds, 4800 US Highway 301 North, Tampa, FL 33610

We will be at the 2023 Florida RV Supershow showcasing new models on most of our brands! Check our website and follow us on our social channels to find updates regarding the show!